Features
Key Features
Set up products easily
Categorize products by type and class
Manage contacts, vendors, and contact information
Automate sales and shipping operations
Create sales orders, invoices, and purchase orders
3 different types of sales orders (open, on-hold & closed)
Centralized filter-driven views of sales orders, purchase orders, shipping and receiving records, and customers and vendors
Automatic unit conversion
Automatically calculate totals, discounts, taxes, and shipping costs
Ship products against open sales orders
Automatically print packing slips and Invoices
Print different size shipping and product labels
Supports drop-ship (purchase from a vendor and directly ship the goods to a customer from that vendor)
Receive goods against open purchase orders
Process sales and purchase returns
Monitor on-hand, on-order, and reorder points
Get automatic inventory updates
Receive low inventory updates
Generate and print over custom 30 reports
Import product, customer, and vendor information
Set up, Sell & Ship Products Effectively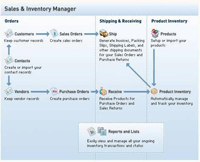 Click the above image for larger view
Easy Product Setup

Set up product information with ease. Sales & Inventory Manager lets you enter product information manually or import existing data from text and Microsoft® Excel® files. You can record as many details as you need, including item number, on-hand quantity levels, pricing, and more. You can even categorize your products so you can view, browse, and track them easily, set up re-order points so you never run out of stock, and track your non-salable items.


Click the above image for larger view
Automate Sales Operations
Save time and money by automating your sales operations. Sales & Inventory Manager brings efficiency to your sales and shipping operations and reliability to your inventory management. After taking sales orders, all the open sales orders are automatically queued up in the shipping window. Simply click on the shipping button and your shipping documents are automatically printed. The sales order instantly closes once the product is fully shipped and the inventory is automatically adjusted to reflect the sale.
Create Purchase Orders

Easily create purchase orders with the Purchase Order Form. Simply enter vendor and product information, including billing, shipping, pricing, order and received quantity, and more. Add customized messages for your vendors and select payment options and terms to make payment requirements clear. Sales & Inventory Manager lets you receive goods against open purchase orders, accept damaged products directly into defective quantity inventory, and even process products that you want to return to vendors with ease.


Click the above image for larger view
Control Inventory

Track your inventory status, including on-hand and on-order quantities. You can set optimal inventory levels so you always know when you're running low and need to reorder product. Just run the Inventory Re-Order report and view the items that need reordering at a glance. See on-hand inventory, committed, available, and on-order quantities, and minimum inventory level.


Click the above image for larger view
Manage Sales Orders & Customers

Generate sales orders easily with the Sales Order Form. Select customer billing and shipping information, choose product details, such as price and order quantity, set discounts and taxes, and specify payment options and terms from one screen. Sales & Inventory Manager lets you instantly print invoices for any sales order when products are shipped so you can collect money faster from your customers. You can even process and receive products returned by your customers.


Click the above image for larger view
Ship Products Insstantly!

Sales & Inventory Manager lets you ship and track your orders quickly and easily. View all your shippable products from a single screen. Choose the orders you want to ship based on the criteria that matter most to you, adjust quantities and enter costs. After you've selected the orders you want to ship, automatically batch print invoices and packing slips or invoices. You can make partial or full shipments and monitor your shipments with the Shipment List. Automatic inventory adjustments to your committed and on hand quantities are made every time you ship.


Click the above image for larger view
Import Data from Microsoft® Excel®
Save time and import existing product, customer, and vendor information fast from Microsoft Excel. You can also import data in text and csv formats.
Over 30 Comprehensive Reports
Produce over 30 reports to help you manage your business more efficiently. You can view, analyze and print Inventory List, Inventory Re-Order Status, Purchases by Week and Month, Customer Rank by Sales, Sales by Week and Month, Weekly Invoicing Summary, Average Weekly Product Shipments, Vendor Contact List, plus more. Some reports even include charts to help you visually see the state of your business.
Perfect for Small Business
Merchandise retailers and wholesalers
eBay® resellers
Online merchandise sellers
Mail order operations
And more!